Regular price
Rs. 2,847.00
Regular price
Rs. 2,847.00
Sale price
Rs. 2,847.00
Unit price
per
Sale
Sold out
Give yourself or your loved one a luxurious  Care they deserve with this Daily Care Kit. This kit is suitable for all skin and hair types, and it's the perfect addition to your daily routine for achieving healthy, radiant skin and frizz-free hair.
WHAT IT CONTAINS

1 x Frizzy Hair Serum (30ml)

1 x Clarifying / Brightening Serum (30ml)

1 x Under Eye Repair Oil (10ml)
BENEFITS

CLARIFYING / BRIGHTENING SERUM

. Evens out skin tone and texture

. Treats both mild and severe pigmentation

. Treats marks/spots, mild acne and blemishes

. Reduces the appearance of large pores

. Regulates oil production for both oily or dry skin

. Makes the skin plump giving it a radiant glow

. Maintains and strengthens the skin on a daily basis

. Protects skin from free radicals.




FRIZZY HAIR SERUM

. Help tame frizziness and detangle hair

. Treats split ends / damaged strands

. Adds a shine and lustre to dull, frizzy, or coarse hair




UNDER EYE REPAIR OIL

. Nourish and moisturise the delicate area around the eyes

. Treats dryness, dark circles, puffiness, fine lines and crow feet

. Strengthens the skin.
DIMENSIONS

Length 21cm

Breadth 18cm

Height 6 cm

This combo set comes in a high quality matt laminated hard box with magnetic lock.
WHY IS IT CLEAN

Researched in Sweden

Hand-made in India

100% Toxin Free

Palm Oil Free

Cruelty Free (Peta Certified)

Vegan (Peta Certified)

Ethical Sourcing
View full details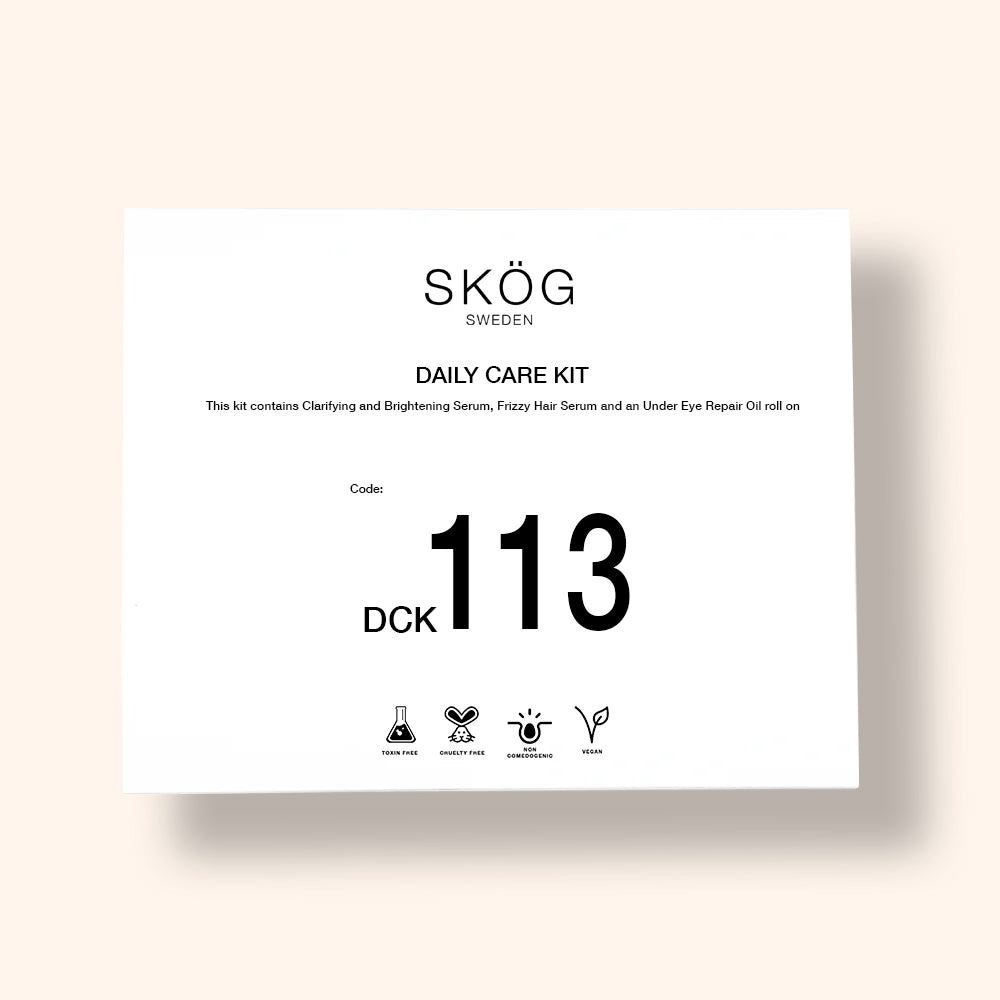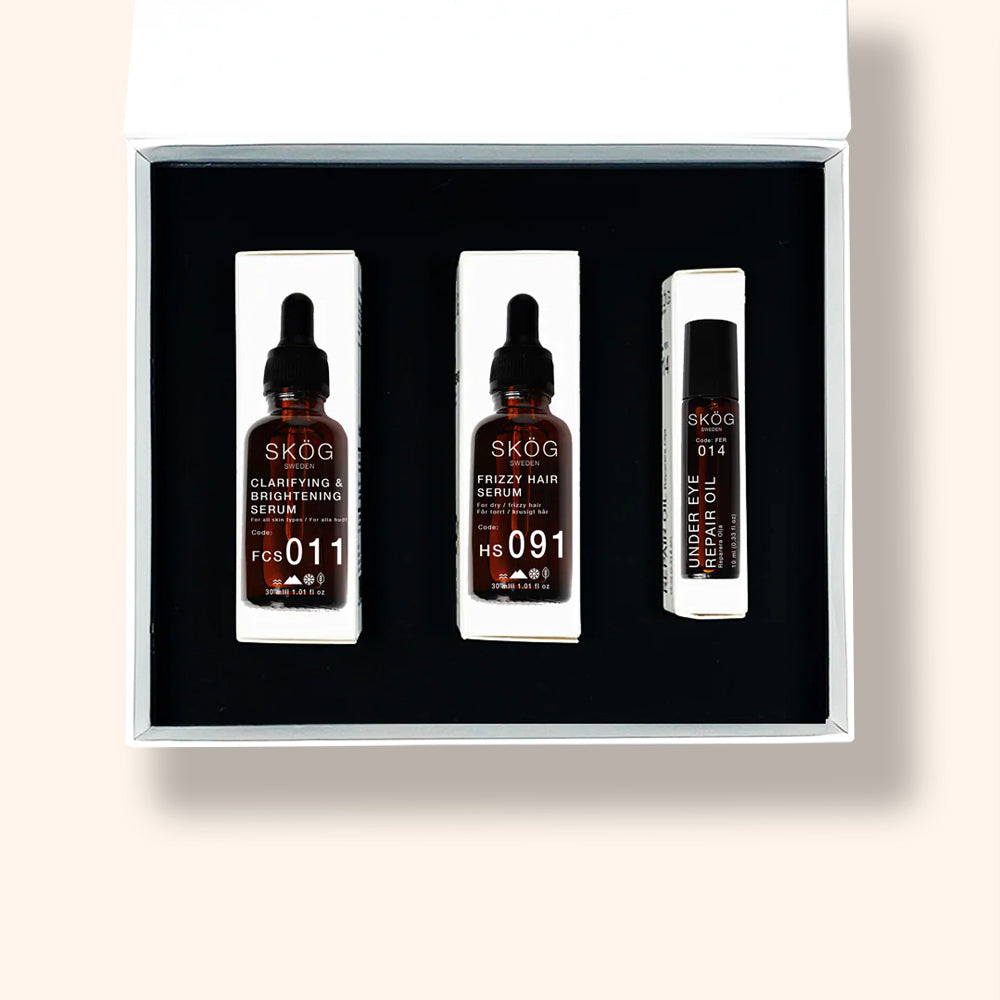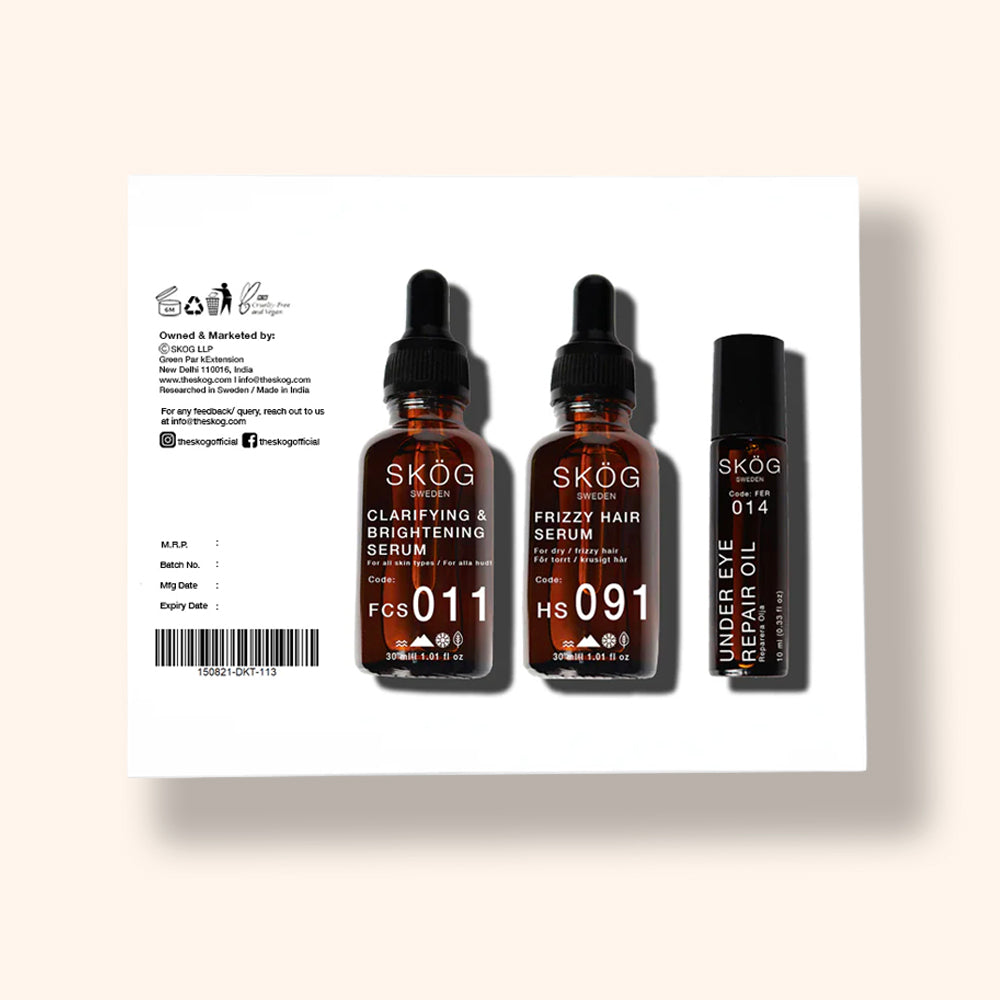 Frequently Asked Questions
The SKÖG Daily Care Kit is a luxurious Swedish care package designed to provide comprehensive care for both skin and hair. It includes a Clarifying/Brightening Serum, a Frizzy Hair Serum, and an Under Eye Repair Oil. This kit is suitable for all skin and hair types, aiming to achieve healthy, radiant skin, and frizz-free hair.
 Yes, you can use both the SKÖG Clarifying/Brightening Serum and Frizzy Hair Serum together in your daily care routine. Apply the Clarifying/Brightening Serum on your cleansed face before moisturizing. Use the Frizzy Hair Serum on damp or dry hair to control frizz and add shine.
 SKÖG aims to provide high-quality products, and the Daily Care Kit should be free from harmful chemicals and additives. However, we recommend checking the product labels or the brand's website for a comprehensive list of ingredients to ensure they align with your preferences and requirements.